It's been over eight (8) years since I built a PC with the last one being in 2010, a Core i7-980X (destiny), which was back when Intel actually produced motherboards!
destiny is my main home workstation. I use it for some VMs, video encoding, photo editing, and the occasional game (Quake III Arena and Quake 4). For the last two years I mulled over upgrading it to something more modern, even though my workloads on it didn't really justify the upgrade. This year, I decided to pull the trigger and upgrade it to something that'll last for another 8 years. I looked at the Ryzen ThreadRipper series and even added a few builds to my cart, but then realized it was probably going to be a waste since 99% of the time the plethora of cores won't be used. So, I decided to look at the leader in single thread performance, which turned out to be Intel: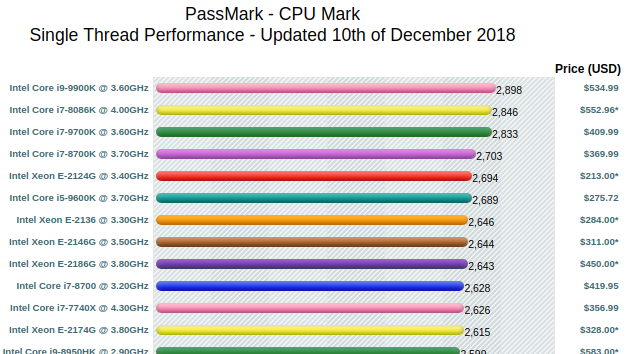 (source for the above screenshot is here)
AMD doesn't even make it to the top 10. Since the i9-9900K had just been released by the time I was looking, I decided to go with it. Here's the build:
New components:
Motherboard: MSI MEG Z390 ACE
CPU: Intel Core i9-9900K
Cooler: Cooler Master Hyper 212 EVO
Memory: 4x8GiB Corsair Vengeance LPX DDR4-2666 (32GiB total)
PSU: Corsair RM850x
Case: Corsair Carbide 200R
Existing components:
SATA SSDs: OCZ Colossus 256GB, Crucial M500 960GB, Crucial m4 256GB
SATA Optical Drives: LG Electronics BH16NS40 Blu-ray Rewriter, Pioneer PIO-BDR-211UBK MAIN-16374 Blu-ray Rewriter
Video Card: eVGA GeForce GTX 1050 Ti SC
The OCZ SSD is pretty old and a 3.5" form factor but it's still working so I have it mounted in ~/tmp for scratch space. I'll probably replace it or some of the other SATA SSDs with M.2 SSDs if it turns out I need more space. Right now, it's not a priority for me. The Blu-ray optical drives limited my choice in cases, but the 200R is a really nice case and another one of my systems uses the same one so I've got experience with it.
The integration was, honestly, pretty easy. I expected more of a fight. It was a little tricky to get the Cooler Master heat sink oriented and attached to the processor but I wasn't in a rush and took my time.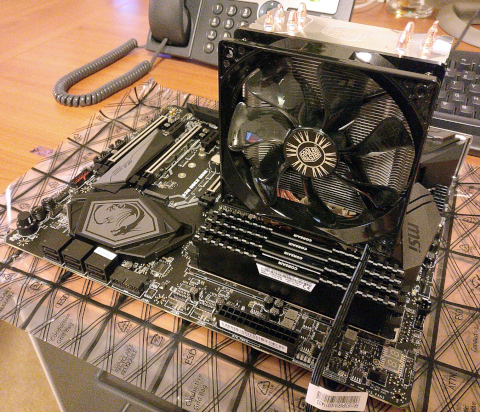 I had fully intended to use the old 850 watt Corsair power supply that I had used on my i7-980X system (TX850w) but it lacked the 2x CPU power connectors so I went for a new RM 850x. Anyway, here's the [almost] final build: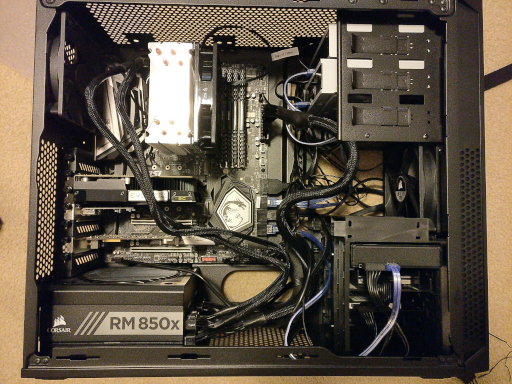 I say almost final because the OCZ SSD gave me some problems. The power and SATA connectors on it stick out pretty far, so the case wouldn't close. I even tried the L-shaped SATA connector that came with the MSI motherboard but that didn't work, either. At the end of the day I just took it out of the 3.5" bay and placed it "free" in the case. Yes, this is horrible and more of a reason for me to replace it with an M.2 SSD in the near future.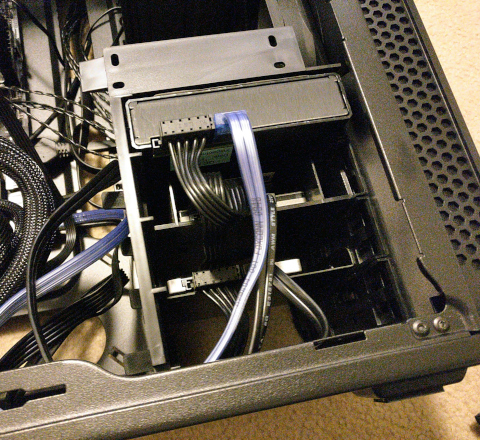 Actually, I can see the above problem happening for any full 3.5" drive, which is a little weird. Here's the final result: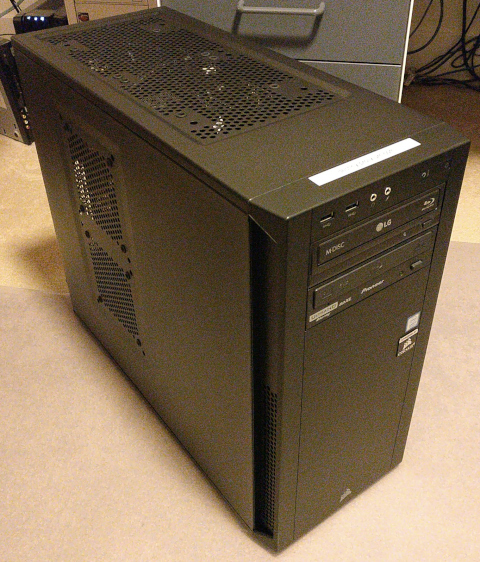 Unlike many PCs I've built in the past, this one worked the first time! After assembling everything the BIOS indicated to me that everything was set to defaults, so I explored a little bit of the BIOS and then booted the OS.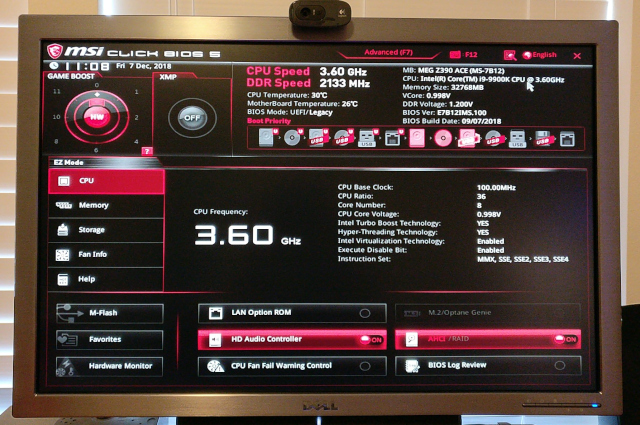 The BIOS is really slick, BTW. I'm not one to like GUIs but it's nice to actually see a map of the board with annotations of what's connected to what. &nbs;The one thing that I still think I need to change is the memory speed. Without OC'ing, Intel rates the memory speed of the i9-9900K at 2666 MHz, which is the speed of the RAM I have. It's running at 2133 MHz right now.
I booted up Linux and did some tests running HandBrakeCLI and messing with cpufrequtils. While I can set the processor to run at 5.00 GHz, it throttles itself down to 4.70 GHz under full load at 77°C, which seems fine to me. The default governor is powersave, which runs all cores at 800 MHz during idle times and actually results in lower TDP than the 980X.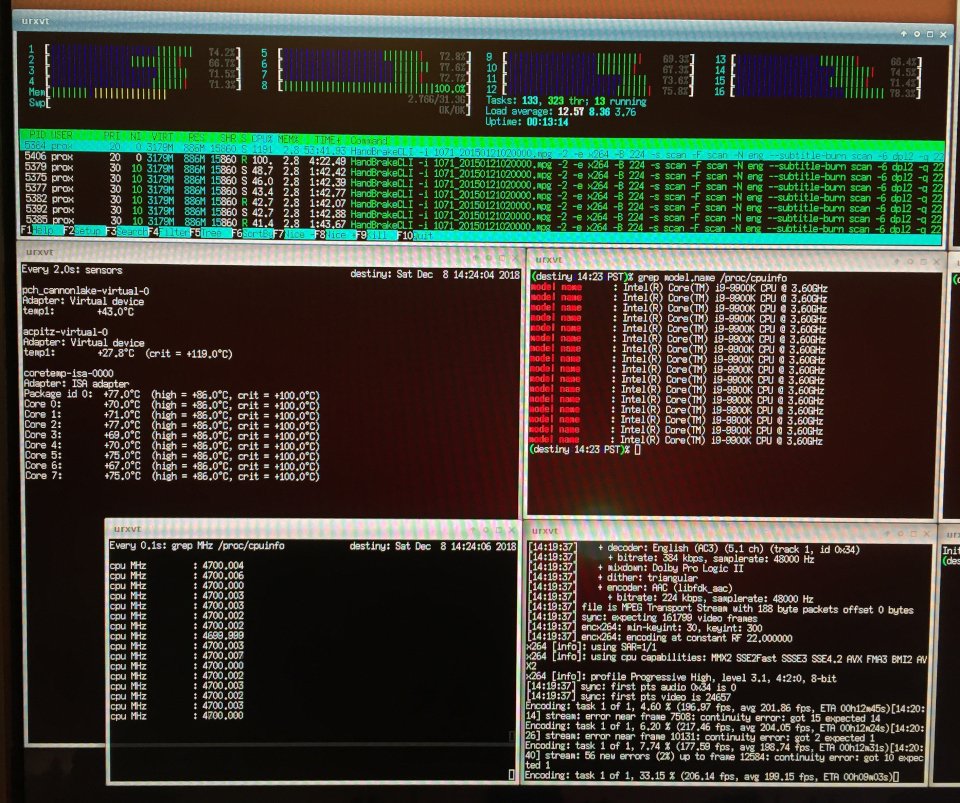 (sorry for the photo instead of a screenshot, but I was lazy)
It's been awhile, so I also fired up Quake 4, which was super smooth even with the quality turned up. Although, most of that is GPU-heavy and even at max vsync (60FPS) only half a core was utilized during gameplay.
I'll probably have some updates here to share over the next few days but for now, I'm happy with the upgrade. The system feels considerably faster and compared to the 980X, it definitely is: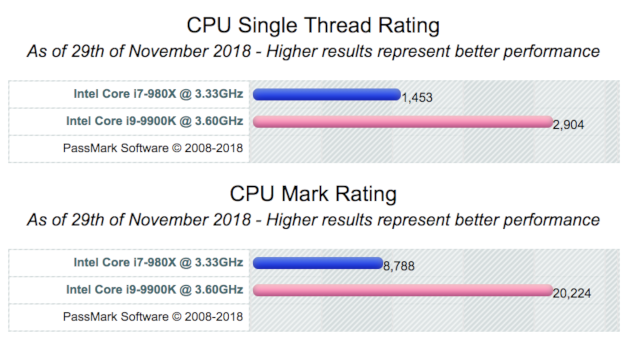 (source for the above screenshot is here)
Find dmesg, cpuinfo, and lspci output here, if you're curious. All grainy cellphone photos are here, too.