> systemd-journal
Posted by
prox
, from Seattle, on August 02, 2014 at 23:14 local (server) time
I've been slowly converting my Debian boxes over to the systemd init system (by installing the systemd-sysv package), recently. I haven't encountered any problems, yet.
However, it seems that my lab box has some systemd component already burning away at the CPU cores: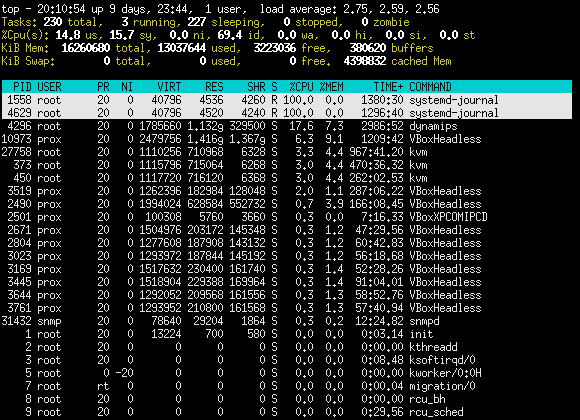 The worst part is that I haven't installed systemd-sysv on that box, yet!
Update: It looks like these systemd-journal processes are running under my Linux containers, which are using systemd. journalctl(1) does not show any errors so I killed both processes (they immediately respawned) and the CPU usage is gone. Yeah.. we're going to be dealing with issues like this for years. Sigh.
> Add Comment
New comments are currently disabled for this entry.