Posted by
prox
, from Herndon, on June 04, 2013 at 18:53 local (server) time
We all know by now that the Nexus 4 sports an LTE radio that is unsupported and has recently been disabled by Google. However, it does work if you enable it. Should you bother, though?
I'll try to answer that question, given I've spent a few days with it in two locations (Herndon, VA and Charlotte, NC) on T-Mobile.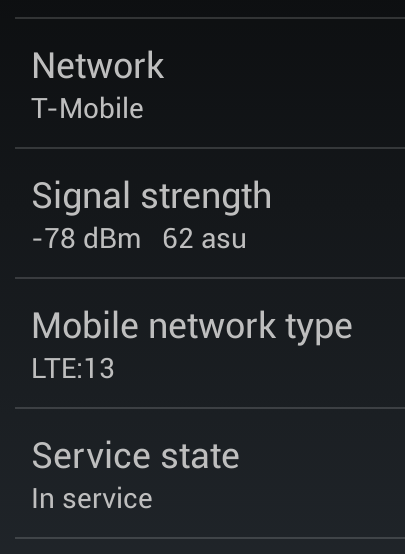 First, the radio will only work with the 2.0.1700.33 radio firmware, which is the original firmware that was installed on my Nexus 4. This radio firmware works fine with Android 4.2.2, even though it was originally released in 4.2.1. Although most people will say that radio firmwares aren't tied to specific Android versions, I've encountered at least one situation where this wasn't the case - so, beware. This radio firmware can be downloaded from here.
Second, the radio only supports E-UTRA band IV. This is AWS, with a center frequency of 1700 MHz. Here's a handy list of all frequency bands used by the air interface of LTE, E-UTRA. As a result, you'll be able to use it with T-Mobile USA, among other things.
Third, lots of things don't work. This is hardly shocking news, since the darn thing is unsupported. Here's a short list:
Location services are not provided by LTE. Unless Wi-Fi or GPS is enabled, the Nexus 4 will have no clue where it is in the world.
Some applications crash and misbehave. The two camera applications that I use, the stock camera and CameraZOOM FX, both seize up and are generally very slow. I suspect this is due to some background location processing that is foiled because there is no location information, even though the cellular connection is active. Words with Friends and Draw Something crash and lock up, too.
LTE doesn't work after a reboot. It has to be manually enabled via the *#*#4636#*#* hidden menu.
No voice services are provided over LTE, at the moment. This is expected, but I'll list it just for completeness.
Voice calls bump the phone back to GSM/UMTS. It doesn't interrupt data, though - it's a smooth handoff. I'm not sure why this happens, considering all radios are active. I would think the phone should be able to send voice over the GSM or UMTS radio and keep data enabled over the LTE radio. It's not a big deal since the phone will go back to LTE a minute or so after the voice call is ended.
And here's the clincher.. the LTE performance is not impressive. I've only been able to get 16 Mbps downstream and 19 Mbps upstream on T-Mobile with a very strong signal. I've seen some much better speed tests at some of the T-Mobile test locations, but I might just have high expectations.
Other than the above, it does work. If you decide to use it, be aware that the FCC has technically not approved the Nexus 4 for LTE operation and you'll most likely have to stick with the 2.0.1700.33 radio and some sort of unofficial Android build (CyanogenMod works) forever.