I recently went on a nice vacation in the Punta Cana area of the Dominican Republic.
I stayed at the Riu Palace Punta Cana, an all-inclusive resort on the beach. It was the first time I've stayed at an all-inclusive resort so it took awhile to get used to the fact that yes.. everything is included. The beach scene was fairly idyllic: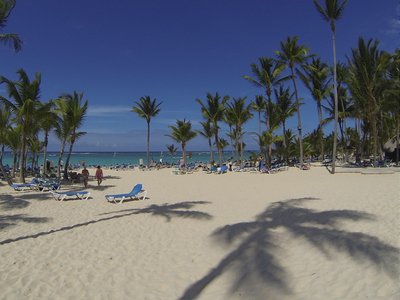 On the last day I took an excursion, which involved Snuba and driving a speed boat. The Snuba experience was pretty fun but it's too bad there wasn't much to see in the area where we were. Driving (piloting?) the speed boat was an interesting experience, one I would like to do again, given the opportunity!
One odd thing about the resort was its Internet connectivity. There was included Wi-Fi powered by a bunch of what looked to be WDS repeaters on a flat 172.21/16 IPv4 network uplinked to a single MikroTik router with several low-speed Internet connections a few hops away. As a result, it was horribly slow - I couldn't even break 1 Mbps. Here's some CDP from the wire showing the repeaters:
00:23:02.907300 CDPv1, ttl: 120s, checksum: 376 (unverified), length 70
	Device-ID (0x01), length: 10 bytes: 'NANO1PCANA'
	Address (0x02), length: 13 bytes: IPv4 (1) 172.21.255.250
	Capability (0x04), length: 4 bytes: (0x00000002): Transparent Bridge
	Version String (0x05), length: 9 bytes: 
	  XM.v5.5.2
	Platform (0x06), length: 3 bytes: 'N2N'
	Port-ID (0x03), length: 3 bytes: 'br0'
The MikroTik router appeared to round-robin sessions through all of the Intenet connections, which resulted in my source IPv4 address changing constantly. Since the Wi-Fi was not encrypted, I was connected via a VPN most of the time, which reconnected every 5-10 minutes. I guess that is the cheap way of getting more bandwidth - I suspect the Internet connections were just low-speed DSL links instead of something more robust.
I managed to snag some bandwidth statistics from the MikroTik router through just following unauthenticated HTTP links: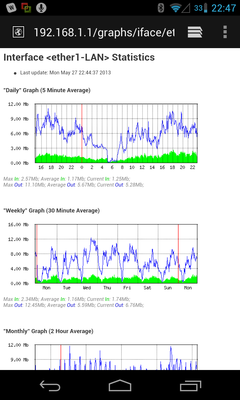 The above is from the one "LAN" interface on the MikroTik box. There wasn't too much traffic considering the resort is pretty large. I guess the Internet connectivity was too slow that nobody bothered with it (or they were doing more vacation-ish things).
Anyway, I took a bunch of photos with my Nexus 4, Canon 60D, and GoPro HERO3. The HERO3 actually performed admirally during the Snuba and speed boat appearance considering I had 720p@60 video running most of the time. I was concerned the battery would die, but it didn't. One thing that sucked, though - I switched the video mode to 1080p@24 to get some more detail and was sorely disappointed when I played it back. For some reason the video exhibited very poor tearing like it was taken with 5-year old cellphone. I recall that didn't happen at 1080p@60, though. So, for some reason that low frame rate introduces some buffering problems on the HERO3.